M.D. Candidate, UCLA
Founder, Yale Harbor Scholars Program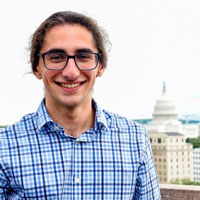 Justin Abbasi is currently studying at the David Geffen School of Medicine at UCLA. He previously worked at the Children's Law Center as an Investigator with the Healthy Together Program where he assisted attorneys who address the health needs of children through legal representation. Prior to this position, Abbasi worked at the Congressional Coalition on Adoption Institute as its Programs & Resident Assistant and interned with the U.S. Senate Committee on Finance. While in college, Abbasi co-founded Harbor Scholars: A Dwight Hall Program at Yale, which provides academic, financial, and social support to students who have experienced familial instability. Abbasi also completed 10 years of participation in Mock Trial and currently serves on the National Foster Care Youth & Alumni Policy Council. His professional interests encompass juvenile justice, health care, and child welfare.