Program Director, Child Well-Being,
Doris Duke Charitable Foundation
Director, African Health Initiative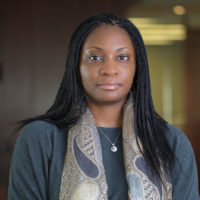 Prior to her work at the Doris Duke Charitable Foundation, Lola Adedokun worked as an analyst at the New York City Department of Health and Mental Hygiene, where she was responsible for management and analysis of HIV/AIDS surveillance data. Earlier in her career, she served as an analyst at Abt Associates Inc., assisting in the implementation of several federally funded impact evaluations related to HIV/AIDS programming and research-capacity building — both domestically and internationally. She was also a co-founder and advisor for the nonprofit organization Boys Speak Out as well as an advisor for the Adaptive Education Languages Institute. Adedokun earned a bachelor's degree in health policy and sociology from Dartmouth College and a master's degree in public health from Columbia University's Mailman School of Public Health.