Executive Director,
Redlich Horwitz Foundation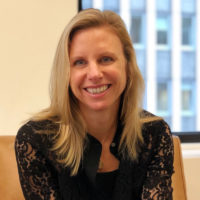 Sarah Chiles joined the Redlich Horwitz Foundation in 2013 as its first Executive Director and, in partnership with the board of trustees, helped the Foundation develop a new strategic direction focused on improving the foster care system in New York. She has overall operational responsibility for the Foundation's grantmaking, the implementation of its mission objectives, and its relational networks with grantees, foster youth, government agencies, and policymakers. Chiles was most recently Vice President at the Thomson Reuters Foundation, where she headed the New York office.
Previously, Chiles was a Vice President with SeaChange Capital Partners, a philanthropic network focused on providing growth capital to exceptional education nonprofits, and prior to that served as the Director of Programs for the NYU Stern School of Business's Berkley Center for Entrepreneurial Studies. During her tenure at NYU, she launched and directed the Stewart Satter Program in Social Entrepreneurship and oversaw the Social Venture Competition and grantmaking for the Satter Social Entrepreneurship Fund. Earlier in her career, Chiles worked in investment banking and directed a nonprofit social venture operated by a consortium of environmental groups. Chiles serves on the Steering Committee of the national Youth Transition Funders Group, is the Co-Chair of the Foster Care Work Group and is a Co-Coordinator of the NYC Foster Care Funders Group. Chiles is a graduate of Middlebury College and the NYU Stern School of Business.